Skip Navigation
Website Accessibility
Sophia Prasinos

Piano & Voice
Sophia Prasinos, mezzo-soprano, is a classically trained vocalist from Woodbury, Connecticut. She has been singing her entire life, but began formal classical vocal training while studying with Meredith Ziegler at the University of Connecticut. Sophia received her Bachelor's of Music in Vocal Performance in 2017, as well as a Graduate Performer's certificate in 2018, both from the University of Connecticut. Sophia then went on to study with John De Haan at the University of Minnesota, Twin Cities, receiving her Master's of Music in Vocal Performance in 2020.
While having spent many years singing classically, from professional opera performances to chamber and church choir positions, Sophia has begun to explore her craft beyond the athleticism of opera, delving into the depths of musical expression and curiosity of sound. Sophia has been studying various vocal styles since graduate school, exploring genres like pop, jazz, R&B, indie, folk, funk and soul, as well as writing her own music.
Sophia's teaching method is rooted in finding connection and curiosity towards music. With a strong focus on healthy vocal technique, Sophia teaches her students not only the technical aspects of how to sing, but how to use their instrument to express their voice to the world. Music is such a sacred form of communication that requires bravery and exploration - all of her students are encouraged to play, in the truest sense of the word!
When Sophia is not performing or teaching music, she enjoys spending time with friends and family, being outdoors, practicing yoga, and running her business Plant Nanny.
Melissa Rood

Voice
Melissa Rood is a State of CT certified music teacher with over 21 years of experience. She graduated from the Hartt School of Music in 2001 with a Master of Music in Music Education - vocal pedagogy emphasis. Her varied teaching and performing experiences allow her to develop plans for those wishing to sing in the pop, rock, broadway or classical styles as well as coach students who want to audition for state or regional honors ensembles or music schools.
As a teacher, Mrs. Rood was the choral director at Coventry High School for 21 years where her award- winning choirs earned superior ratings while traveling throughout the Eastern US and Canada. Many of her students have earned places in the All-State, Eastern Regional and Charter Oak Choirs and several have gone on to music colleges or conservatories and now teach or perform professionally. Melissa was a guest conductor for The Chorister's Guild - Festival of Singing Children and was the choir director at First Baptist Church of Mansfield, CT for 17 years.
As a performer Melissa has a wealth of experience ranging from the classical sound of a regular soloist at the First Church of Christ, Scientist to lead parts in community theatre roles to regular performances of jazz and popular music at local venues with her band November Sound (est. 2014).Today she has a voice heard around the world through her recordings on YouTube, maintains a residency at Chagall Performing Arts Collective in Salem, MA, and also sings the national anthem at local Veterans Day, Memorial Day, July 4th and US Naturalization ceremonies.
Melissa has a thorough knowledge of the solo literature for All-State and other honor choir auditions including the language, pronunciation, phrasing and other important details. Additionally, she is well- versed in modern music and up-to-date singing styles as well as having expertise in a huge repertoire of musical theatre and cabaret music.
Over two decades, Melissa has worked with a multitude of students of varying ability levels. Most importantly, she has developed a daily vocal warm-up routine and systematic ways to practice so that students can use their voice properly to sing freely, smoothly and in a healthy way.
Brooke Der

Piano & Voice
Brooke Der is a violinist, violist, pianist, guitarist, bassist, and ukulele player with over 10 years of experience working with beginners through intermediate level students of all ages. A native to Dallas, Texas, she did her undergraduate degree in Music Therapy at Colorado State University. While there she honed her teaching skills through string pedagogy courses and coaching chamber music groups. She also performed in the university orchestra, opera orchestra, and chamber music program, as well as gigging with local professional ensembles and playing weddings. Brooke is fluent in a wide range of musical styles including (but not limited to!) classical, folk, pop, rock, and blues. She is a bright and friendly teacher suitable for beginner through intermediate musicians of all ages who are looking for lessons without the high stress! Brooke loves to work with her student's preferences and goals they would like to meet throughout their time in lessons in a practical and client driven way.
Brooke is a Music Therapy Intern at Albert J. Solnit Center South in Middletown in preparation for her board examination. She and her husband Ryan (also a teacher at Middlesex!) moved from Fort Collins to Colorado to Cromwell in June of 2022, and have absolutely fallen in love with the area. In addition to music, they enjoy gardening, board games, and exploring Connecticut with their husky, Honey!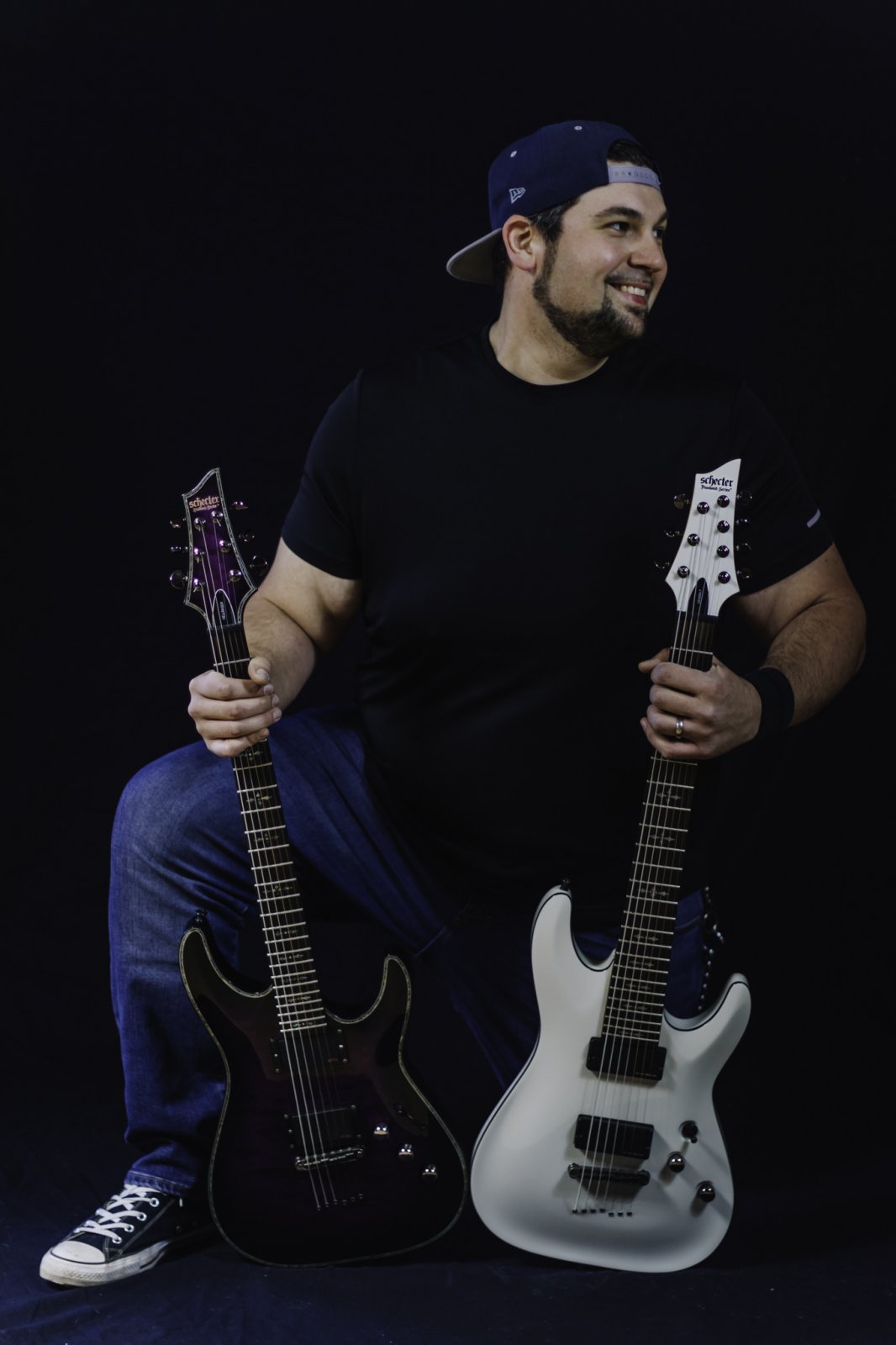 Anthony Edley

Voice & Guitar
Anthony Edley has been teaching for 13 years and has been with Middlesex Music Academy for the past 8. Working with students of all ages, skill level, and musical backgrounds, Anthony is able to customize a lesson plan for any learning style. Anthony graduated from the Greater Hartford Academy of the Performing Arts and shortly after earned his Bachelor of Music from the University of Hartford.
Students of Anthony Edley have gone on to perform in Regional and All State choirs and jazz bands as well as graduate from basic music theory, perform as the lead in their school musicals and perform in their own working bands. Anthony has also helped students continue their education by preparing them for college auditions and leading them through musical career paths. Students of Anthony have gone on to major in Music Education, Audio Engineering, Music Production, Vocal and Jazz Performance at many diverse colleges and universities.
As a professional musician, Anthony has had a wealth of experience ranging from performing with Dave Brubeck at the Library of Congress with the Real Ambassadors Jazz Choir, to touring throughout the United States with various bands. Currently Anthony performs with Presley and Taylor, The Zoo, Branded, and Southern Voice, at destination weddings, music festivals, Resorts, Casinos, and other 5,000+ capacity venues. Anthony has several studio credits ranging from Contemporary Christian, Musical Theater, Country, Rock, Indie, Metal, Jazz, Radio and T.V. commercials. He has also worked with corporations to provide promotional material for companies, as well as arranging/producing tracks for independent artists and song writers.
You can view some of Anthony's performances and student ensembles on the Middlesex Music Academy YouTube channel here: YouTube.com/Middlesex-Music-Academy
Ishaar Gupta

Voice & Piano
Ishaar Gupta, bass-baritone, graduated from the University of Connecticut in May of 2016, where he earned a bachelor's degree in music, emphasis in vocal performance. At UConn, Ish studied private voice with Metropolitan Opera bass-baritone Rod Nelman, and sang in several choirs directed by Dr. Jamie Spillane. He currently sings professionally in various ensembles, including CONCORA, the South Church Chancel Choir, the Hartford Chorale, and Novi Cantori. In the past, he has sung with Connecticut Chamber Choir, Farmington Valley Chorale, CDN, and the Composer's Choir. A diverse performer, Ish has sung and acted in several musicals, plays, operas, most recently with Madison Lyric Stage and Pearwater Productions. In addition to performing and writing his own music, Ish is currently pursuing a career as an educator as part of Hartford Stage's education department, which brings innovative theatre education to more than 17,000 students each year. A native of Newtown, Connecticut, and a proud UConn Husky, Ish is excited to be a part of such a great program at Middlesex Music Academy!
Zoe Vandermeer

Voice & Piano
Zoe Vandermeer has been teaching voice and piano for more than 20 years, and is dedicated to bringing the highest quality of training to her students. She teaches children and adults beginning to advanced levels in both voice and piano, as well as individual and group lessons in songwriting, musicianship, and music theory. In addition, Zoe provides audition preparation, and also works with students in preparation for the ABRSM (The Associated Board of the Royal Schools of Music) program.
Zoe is a member of the New York Singing Teachers Association and teaches singers of pop, R&B, musical theatre and classical styles, focusing on establishing a reliable vocal technique resulting in singing with vocal ease, vocal power, stamina, flexibility, extended range, and improved tone. Vocal health is a top priority. She also has extensive experience working with children's voices. Many of her young vocal students have continued on to careers in the Arts, and have received college scholarships at Berklee School of Music, Carnegie Mellon, University of Connecticut, and elsewhere, and have had lead roles in musical theatre productions, sung in Regionals, All State and Nationals, and solos in school music events. Her adult students range from professional recording artists and soloists, to choral singers, worship leaders, singer-songwriters and band singers.
Zoe Vandermeer is a prize-winning graduate of the Royal Conservatoire of Scotland, a recipient of the Hartt School Faculty Development Fund, and named to the roster of the CT Commission on Culture and Tourism in 2011. Her Carnegie Hall debut took place in 2014 as First Place Winner of the B. Alexander International Vocal Competition and in 2021, she won the Bronze Medal for her singing from Global Music Awards, and was a Semi-Finalist in the Premiere Opera Foundation International Vocal Competition. Zoe performs in the US and internationally in productions, concert series and festivals. She has given masterclasses and presentations at the Hartt School Summer Institute, Dalhousie University Nova Scotia, CMEA Convention, and elsewhere.
Ready to Sign Up?
Are you ready to sign up for lessons with one of our trained instructors? We've made the process easy and totally painless. Click the button to use the interactive widget and book your first lesson today! If you'd rather enroll in lessons over the phone, feel free to give us a call at 860-344-0525 instead.